Part of my job as a book publicist is advising authors on how to use social media. But social media is a field that's more an art than a science—so I decided to start an interview series where I ask authors skilled in social media about their approaches.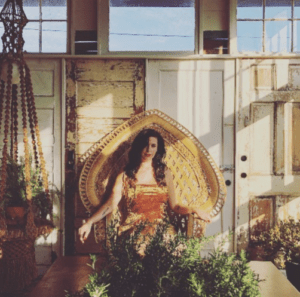 Today's interview is with Lisa Marie Basile, founder of Luna Luna Magazine and author of books such as Light Magic for Dark Times, Apocryphal, and Wordcraft: Writing Your Magic for Ritual, Manifestation & Healing, which will be published in 2020.
You can follow her on social media here: Twitter | Instagram | Facebook
Luna Luna Magazine: Twitter | Instagram | Facebook
Light Magic for Dark Times: Instagram
We did the interview over Gchat and it's been condensed and edited.
Welhouse: What advice do you have for writers who are starting out with social media?
Basile: When I started writing, no part of my being was thinking about social media. I became very serious about writing and thinking about publication around 2009, and Instagram wasn't in the picture. Facebook was still very much a friends-only space, and Twitter totally confused me. I couldn't really wrap my mind around sharing via social media.
Fast forward a few years and I started making friends online via a small online literary journal I was working on. Suddenly, I had a network. To this day, my relationship with social media has evolved and grown, usually in a positive way. I would advise emerging writers to transition their social spaces into places where writing can fit — share other people's writing, host conversations about writing, use captions as a way to create a conversation around literature. But do have social media accounts (if you can stand it).
The sad reality is that writers are the engines behind most of their own promotion, and for many of us, the Internet allows us to really embrace our own autonomy as writers and create a beautiful community of people wanting to read and be read. It's actually incredible.
In short: Don't avoid social media, if you can help it. You don't need to be on it all day to participate in it.
Welhouse: I'm interested in the "if you can stand it." I think one thing a lot of writers struggle with is how to have boundaries around social media and how to make it support their writing without interfering with it. How do you set those boundaries?
Basile:  I struggled — and struggle — with this. I've even posted to social media about how toxic it's become (very meta, I know). Honestly, you do need to create a boundary. A high percentage of people use social media as a distraction or as a way to connect (which makes sense if you are in an isolated town or have social anxiety, etc.), but it's hard to write well (or live well) when you're constantly surrounded by fighting, negativity, or hate. That's a big portion of the Internet. It's time that could be used in more productive ways, and I've definitely learned this the hard way. Staring into that blue light, not reading, not simply sitting and thinking — it got to me. So now I give myself a few minutes everyday, and I am very aware of how long it's been. I only post to Instagram when I feel super excited/passionate or when I have to promote something, and I generally try to stay away otherwise. My easy and fast rules: Promote your work, support others, tell a story, be vulnerable, and then back away. It's not worth losing hours of your life over.
Welhouse: I also want to point out that you do post to Instagram a lot, which means you often feel super excited/passionate! (Sounds right.) You're a poet who has published several poetry books, and more recently, you published a nonfiction book. How has your approach to social media promotion changed? I'd also love to hear some of the nitty gritty about how you decided to make a separate Instagram page for the book, how that relates to your own Instagram, and any advice you have about that.
Basile: I have always been very visual; I decorate my bedroom in specific pieces and colors. I curate things that make me feel powerful. I have always loved taking dramatic photographs. I love creating a story with an eye for detail and framing. To me, a photograph can also be a poem–I love that you can pair a story and an image to Instagram. It's evocative, it's a way to let people in, and it's like a miniature diary, curated for the public. I love to straddle the line of "what's for me" and "what I give to the public." Often, I find being honest about my writing or chronic illness or my thoughts helps to remove shame and stigma and helps me to simply be a human. Even if it is through a filter. Put simply, I love beautiful things, and I love to create a space that feels beautiful! It's poetry to me.
When I started really looking at social media as a tool for promotion (I do want to point out that "promotion" isn't a bad, yucky word; it can be done authentically and not grossly), I started being more aware of what I'd put online. I chose to focus on three things in my Instagram, for example: my work, magical/intentional living, and the body. It's all a mish-mash, and it's all themes from my writing. I try to make sure those are the stories I'm telling. I save personal friends pics for Facebook. IG is a visual diary of my life as a writer, really, and I want it to represent exactly that.
When it came to Light Magic for Dark Times, my nonfiction book, I wanted to create a world where you could feel the book, even if you didn't buy it. You could feel its softness, its shadowy spaces, its kindness. So I created an Instagram account for it (this also helped me not to annoy my 5000+ followers who are following my personal account). Because this was a global book release, and because I had never written a full length nonfiction book before, I wanted to make sure I was working hard to share it with people. Each post on IG for the book account is either about the book or adjacent to the book's topic. So, it might not be a promotional post, but it's a post about the book's topics. It feels organic.
Plus, even though they spawned from the book, the book's topics are relevant to anyone. I can continue building that IG account with magic and mindfulness and intentionality in mind far after the book's not hot anymore. And I like that. I'm deeply passionate about that book and want to continue sharing thoughts on it. I do blend my two accounts and cross-reference and cross-promote, and I post each from an "I" perspective. It's more about conversation than promotion.
I also use #LightMagicforDarkTimes as the book's hashtag. It's helped to gather all the pics that people post of my book.
Another tip: turn your Instagram account into a business account if you want to use it for promotion. You get free account and post-specific analytics that can tell you when to post, what people respond to or save, and who your audience is.
Welhouse: What social media platforms have you decided aren't for you? (When I'm giving social media advice to authors, I tell them that it's better to have a few accounts that you post on consistently rather than having a ton where they don't post and the tumbleweeds blow through.)
Basile:  Totally agree. I focus heavily on Twitter and Instagram for literary stuff, Facebook for more personal and some writing stuff, and nothing else. I never got into Snapchat (people moved to Instagram stories), and I only really use LinkedIn here or there. I don't use any other social platform. I used to use Tumblr, but you're right — it's hard to be spread thin. So I focus my energy on places that I care about.
Welhouse: I moved to Instagram stories, too. It feels like Snapchat except that, for me, people actually see them!
Basile: Ha, exactly!
Welhouse: What do you think about using hashtags?
Basile: I use hashtags on Instagram only, really. I find that they're helpful. I know this is one of those hot topics where everyone disagrees, but to me, it's really helped me gain followers — and the right followers. People love "poetsofIG" because if you're searching that, you literally want to read poems. Amazing.
We've used hashtags on Twitter at Luna Luna sometimes, but in general it seems they have a low yield. For our specific purposes, it seems conversation through our Twitter does more work of gaining followers and engagement than hashtags, and that's because people who engage at Luna Luna are a specific kind of witchy, literary folk. Hashtags may help someone find us but might not help them stay.
However, there are a lot of people who use Twitter hashtags too, and they can be helpful. It all depends on what you notice from your followers.
A tip: I view the free analytics on Twitter to see what works for us. It's almost always a conversation that gets rolling versus a hashtag-drenched status! I love that. Very organic.
Welhouse: What's your approach to promoting events on social media?
Basile:  I use social media to promote an event, and I'd say you're really at a loss if you do not. However, you can't post to FB once and expect magic. Promotion is far more than posting. It's about building connection, supporting others as well, and creating a space that adds value.
Welhouse: Is there anything you want to say about social media that I haven't asked yet?
Basile:  Social media can feel vicious; there's a lot of insincerity online. When you are sharing work, just remember to be yourself. Tell a story if you want to and connect it to the book you're trying to showcase or the poem you just had published. People respond to people, not captions. Don't be afraid of leaning into the more conversational online. It's an extension of you—not a robot! It doesn't have to feel icky or fake. I have made beautiful friends with people through the Internet and they inspire my writing.
All of that said, GET OFFLINE AND GO WRITE.
---
Abigail Welhouse is the Publicity Manager at Scott Manning & Associates. She is also the author of three poetry chapbooks: Bad Baby (dancing girl press), Too Many Humans of New York (Bottlecap Press), and Memento Mori (a poem/comic collaboration with Evan Johnston). Follow her on Twitter and Instagram.